What is Ramset Rapid Repair?

Ramset Rapid Repair provides you with Experienced Technicians, Quick Turnaround and a Simplified Pricing in an easy to use and online tool for your Ramset tools that have a failure or just need maintenance. If you are looking to repair a Ramset tool this Ramset Rapid Repair is the best solution for you! Simply create an online profile and let us know the issues you are having with your tools, send it in to us and we'll take it from there.

Ramset Tool
Repair is Simple

Simplified Pricing

Service Policy

Warranty Information



*UPS Ground Shipping is Free!!
Experienced Technicians
Our tool repair specialists are the same people who assemble Ramset tools. They know tools down to the smallest detail. Leave it to our experienced professionals to take care of your tools repairs. Our technicians identify the failure mode and take the corrective action. We'll even put write up the corrective action on your invoice, so you'll never be left in the dark about the repair.

Why use Ramset Rapid Repair?

Tool Repair Turn Around
Our experienced technicians will make every effort to repair your tool within three (3) business days.Please note we are currently experiencing unusually high demand for support therefore turnaround times may be longer than three (3) business days after we receive your tool.

Original Ramset Parts
Just like for your car, you can trust dealer manufactured parts to work better for your car than third party parts. We guarantee that we will repair your tools using the same parts it was built with.
What is Simplified Pricing?
No Surprises
Our simplified pricing lets you know how much your repair will cost up front - after all, surprises are only good on your birthday! The matrix below provides simple to understand and standard pricing that takes all the guesswork out of repair costs.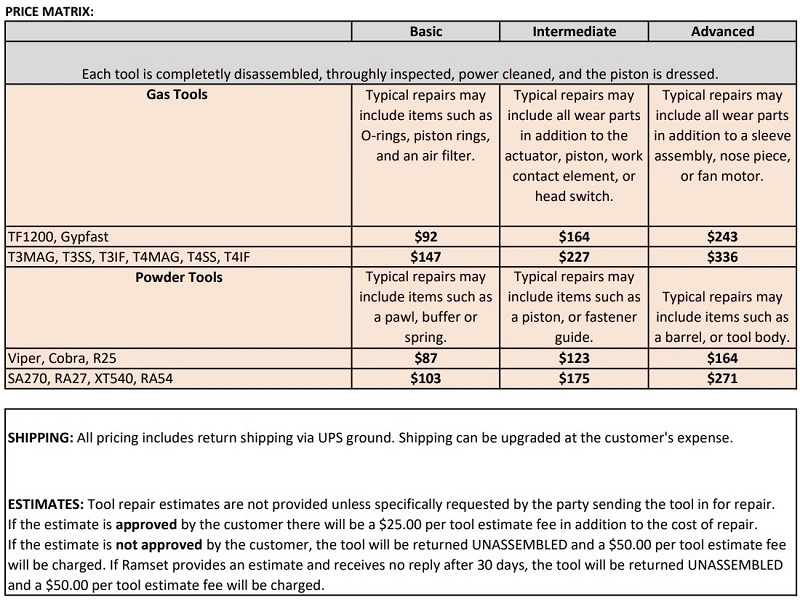 Note: Ramset will make every attempt to respond to emails within three (3) business days..
If you prefer more immediate assistance, please call 800-222-6990.